Manetta Dillingham, P.G.
Geologist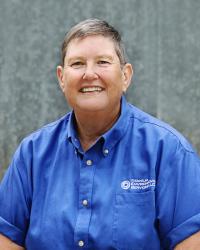 Manetta is a licensed Professional Geologist for the State of Texas. She has a 20-hour HAZWOPER certification. She received her M.S. in Geology from Stephen F. Austin State University in 2007.
At TES, Manetta is involved in groundwater monitoring well installation, soil and groundwater contamination assessments for VOCs and metals, soil contamination assessment and remediation from saltwater spills, and SPCC plan preparation. She has previous experience in surface coal mining, lignite exploration, and precious metals exploration.
Manetta's professional publications include:
Barker, Chris A., Cegon, A., Dillingham, M., and Nielson, R. L., Department of Geology, "Proterozoic Shear Zone in Burro Mountains, NM, Hints at Mazatzal Kinematics", 113th Annual Meeting, Texas Academy of Science, Stephenville, Texas 5 March 2010.
Dillingham, Manetta, and Barker, Chris. "Macro-and Microtectonic Features in the Burro Mountains, SW New Mexico, and their Implication for the Evolution of Southern Laurentia: Preliminary Results." 110th Annual Meeting Texas Academy of Science. Waco, Texas. 2 March 2007.
Dillingham, Manetta. "SEM Analysis of Great Salt Lake Oolites." Texas Society of Microscopy 2006 Fall Meeting. Allen, Texas. 20 Oct 2006
Dillingham, Manetta. "SEM Analysis of Great Salt Lake Oolites." Texas Journal of Microscopy. 37:2 (2006) p. 61